By Chris Hoehn
Campus Minister, University of Southern Indiana
This year, at the University of Southern Indiana, we welcome five FOCUS missionaries to campus for the 2022-2023 academic year. FOCUS is an acronym for Fellowship of Catholic University Students. FOCUS missionaries are recent college graduates who serve on college campuses to enhance the college experience through bible studies, retreats and introducing students to the life-changing reality of Jesus Christ.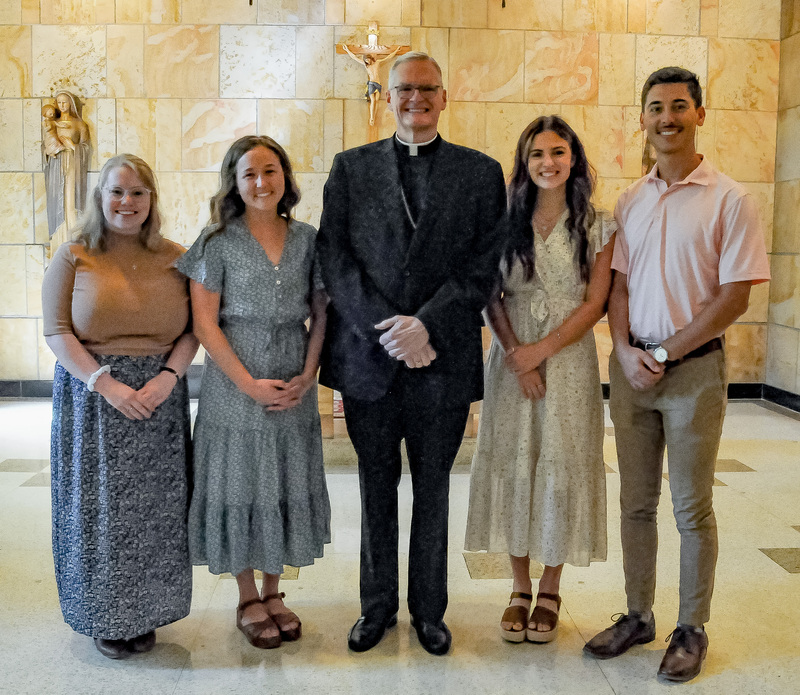 These young missionaries work with our existing Catholic campus ministry to engage peer-to-peer outreach. Focus Founder Curtis Martin said, "For more than 20 years, FOCUS has been striving to help others know Jesus Christ and fulfill His Great Commission through the model we call 'Win-Build-Send.'"
Martin describes this process as:
Win: FOCUS missionaries encourage students in authentic friendship, helping them embrace a relationship with Jesus Christ.

Build: FOCUS missionaries accompany students into a deeper knowledge and practice of their Catholic faith.

Send: FOCUS missionaries guide and encourage students to take up the mantle of leadership, sharing their faith with others, teaching them to share their faith. 
Our missionaries this year, in their own words: 
Christian Corrao
Hello! My name is Christian Corrao, and I graduated from Ball State University (CHIRP CHIRP) this past May with a degree in architecture. My journey to FOCUS started in the fall of 2018, my first semester at Ball State. I joined a group of young men at the Catholic Newman Center led by a magnanimous priest through a program called Exodus 90. This program calls men to a radical return to reality through intense prayer, fasting and chastity. This group consisted of men from all walks of life, including several FOCUS missionaries, whom I got to know very well. These men and this program were the first time I experienced true intimacy with Jesus Christ. That semester was a spring-point for my journey to FOCUS. The Lord continued to call me deeper into relationship with Him and He was (and always is) WORKING. God continued to nudge me through my relationship with my girlfriend (now fiancé) who is also a FOCUS missionary (this woman is Taylor Homan). Through her witness to joyful sacrifice and passion for mission I found myself called to become a FOCUS missionary. During the interview process, I was debating joining FOCUS. Through this internal conflict, I remember a FOCUS chaplain asking me: How can you be most generous to God? I realized that becoming a FOCUS missionary was the way I could be most generous to the God Who is never surpassed in generosity. I am so excited to be serving the students of USI this year and inviting them into the generosity God offers to all ahis children!
Katie Schuth
I'm from Trempealeau, Wisconsin, and studied traditional Mathematics at the University of Wisconsin-La Crosse. At the end of my fourth year of college, I suddenly had a desire in my heart to learn more about the truth of the Catholic Church. This desire led me to a FOCUS bible study, where I encountered a community that loves Jesus vibrantly for the first time. After recognizing that what my heart yearns for is the Lord, I got as involved as possible and eventually discerned a call to mission with FOCUS so that I could help others know and love Him on college campuses. I served my first year with FOCUS at the University of North Dakota and am absolutely thrilled to be serving USI this year.
Taylor Homan
Hi! My name is Taylor Homan. I got my license in cosmetology in 2019 and worked at a salon in Muncie, Indiana, for two years. The fall of 2019 radically changed my life. I ended up at a fall outreach party that the Ball State Newman Center was hosting. I met the FOCUS Missionaries there and I was instantly drawn to them. They had something inside of them that I had never experienced before. I didn't know what it was, but I wanted it. The more that I spent time with them the more I realized that what they had was a divine intimacy with Christ. This led me to prayer, bible studies, authentic friendships, and most importantly, finding my identity as a beloved daughter of God. I know that it's the Lord who transformed my heart, but it was first the invitation from a FOCUS Missionary. I am so convicted of the mission of FOCUS because it has changed my entire life. Thanks to way the Lord has worked through FOCUS, I am now marrying the love of my life come this December, and I'm serving my second year as a missionary. He is the most loving Father, and I desire to invite as many people into this deep communion of love that they're made for that only Jesus Christ can offer. 
Zach Piorkowski
I am from Detroit, Michigan. I graduated in April 2020 from Grand Valley State University in Grand Rapids, Michigan, with a double major in Marketing and Supply Chain Management. I applied to FOCUS at the beginning of my senior year after being asked to by one of my missionaries. After going through the application process and interviews it was very clear that the Lord was calling me to mission with FOCUS. There are so many men on college campuses that do not know Christ and I want to be able to give them an invitation to know Him. My entire faith journey started with a missionary inviting me into a relationship with Christ and now I desire to do that for others. I am happy to be returning to USI for my second year as a FOCUS missionary.  
Rachel Moore
Hi! My name is Rachel Moore, and I am the Team Director of the missionaries at USI. I'm from Littleton, Colorado, and I graduated from Colorado State University with a degree in Business Administration in 2019 before joining FOCUS.
The Lord worked in many ways to bring me to the point of serving as His missionary, but perhaps most profoundly during my time in college through a FOCUS missionary named Sarra. Though I spent much of my life hearing the words "Jesus loves you," I never understood the reality of that Love, nor the depth and breadth that it reaches, until I met Sarra. We became fast friends, and she invited me both into her bible study and into her daily life -- to work with her, eat with her, pray with her, attend mass with her, everything. I was so drawn to her joy! Through her witness and boldness, I learned that the only response to Jesus's profound Love for me was to live intimately in relationship with Him through prayer. When I started to show up to actually encounter Jesus, who so intimately wanted my friendship, I was transformed. I'd never known such a deep and honest joy, or had such a true understanding of who I was. 
Now, my greatest desire is for all people to know the Joy of life with Christ, and to be unafraid to share it with others in the way Sarra did for me, and so many other women on my college campus.
Since saying "yes" to this mission three years ago, I have served both at Indiana University and at FOCUS's national office in Denver. I'm delighted to be here at USI, leading both our missionaries and our students continually closer to the heart of Christ.