By Megan Erbacher
The Message assistant editor
After years of being a fan of ABC's reality dating show, The Bachelor, Sheri Eberhard never imagined her retirement would include a version of the hit show's final rose ceremony.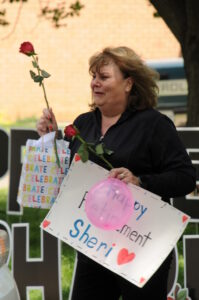 Just hours after discovering a large, colorful sign in her front yard on May 6 congratulating her on retirement, the first-grade teacher from St. John the Baptist Catholic School in Newburgh was surprised again when a caravan of more than 40 vehicles drove by her home. As each vehicle paused in front of Eberhard's house, she was handed a long-stem red rose to celebrate her very own final rose ceremony.
After 40 years of teaching for the Catholic Diocese of Evansville, 31 of those years at St. John in Newburgh, Eberhard will retire at the end of the 2019-2020 school year.
The parade was led by flashing lights and a quick siren from a police officer, followed by faculty and staff vehicles decorated with posters, balloons and well-wishes to Eberhard. A window of one van read: 'Welcome to the rose ceremony!' While a vehicle behind it sported another often-used line from The Bachelor: "The most dramatic retirement and end of the school year yet!"
"The rose ceremony was hilarious," Eberhard said. "I have to admit (The Bachelor) is a topic of conversation on Tuesdays at our lunch table. … It's hard for me to think that we won't be having those discussions anymore at school, but I guess that's what texting is for."
When someone retires, St. John Newburgh Principal Elizabeth Flatt said the celebration typically consists of taking the person out to dinner; but the COVID-19 outbreak prevented that. So, Flatt said they had to think of a special way to send Eberhard off into retirement.
Since the coronavirus pandemic caused schools to close to in-person instruction, St. John Newburgh educators have participated in weekly virtual Zoom meetings.
On May 6, Eberhard was surprised to login and realize it was just her and Flatt on the video meeting. Eberhard admitted she's never been the first to join the virtual meeting, so she was confused. On top of that, Flatt's volume wasn't immediately working, so Eberhard attempted to read her lips.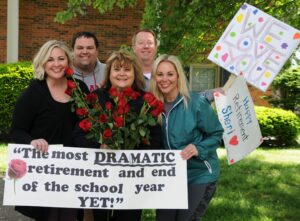 "Finally, Flatt said, 'the faculty meeting is canceled, come out to your front lawn,'" Eberhard recalled. "I was in disbelief as I walked out to the flashing lights of the police car and all of the decorated cars and vans for as long as I could see, and I was so overwhelmed."
Flatt also included 'Eberhard Pizza Night' into the celebration. To incorporate that tradition and recognize other faculty and staff for Teacher Appreciation Week, Flatt not only provided pizza for the Eberhard family but also handed a pizza to each vehicle driving through the parade.
Eberhard said the retirement parade was a "fun reunion atmosphere."
"I just love, love, love my coworkers," she said. "We truly are family."
Flatt called Eberhard a "rock star teacher" who deserves all the recognition. Flatt said Eberhard is a leader among staff and her presence will be missed.
"It's a bittersweet way to be done," Flatt said. "She is the epitome of an amazing teacher. She has a tremendous dedication to her students and does whatever it takes to make them feel loved and successful in class. She goes above and beyond daily."
Eberhard loves the connections she's made with all of her students, parents and colleagues over the years.
"It's always been my philosophy to try and build a rapport with each student and I'm going to miss that. … Once you're in my class, you're always one of my kids no matter how old you are."
Like many people whose plans have been disrupted by COVID-19, Eberhard's 40th and final year of teaching is much different than she had imagined.
"Everybody's lives have been disrupted in ways they did not plan, so I share those emotions," she said. "I'm very disappointed I didn't get to savor my last few weeks with the kids. That's the biggest thing, I wanted to savor those last few days, and I'm not going to get to do that."