By Tim Lilley
The Message editor
The Diocese of Evansville held its first-ever Green Mass – to pray for the care of creation – Oct. 1 at Sts. Mary and John Parish in Evansville. Pastor Father Alex Zenthoefer, who also serves as Vicar General of the diocese, said, "This earth needs us.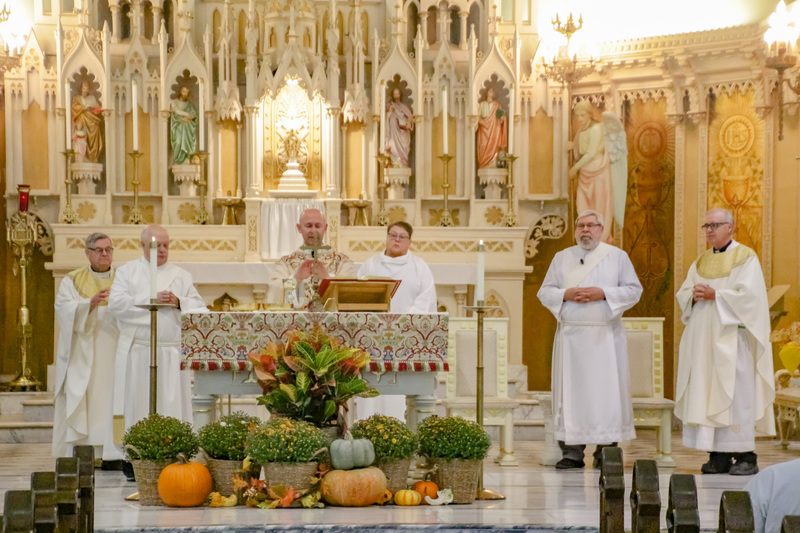 "We celebrate this great gift we have been given. We are children of God who need signs of his presence." Father Alex called the gifts of creation the very signs of God's presence that we desire.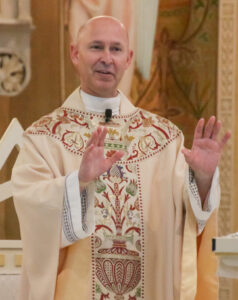 During his homily, Father Alex offered passages from the poem "God's Grandeur" by Gerard Manley Hopkins, including "Generations have trod, have trod, have trod; And all is seared with trade; bleared, smeared with toil; And wears man's smudge and shares man's smell…."
He added, "We have trod on such grandeur and forgotten its value. (But) Hope remains that grandeur continues to emerge again and again." He said that hope is something we have to work for. He added another passage from the poem: "For all this, nature is never spent."
"This Earth needs us," Father Alex said. "The Lord is inviting and calling us to take care of this gift. We must care for creation because it is our house – and a reminder of the house to come."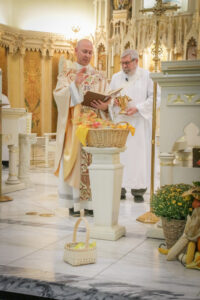 During the presentation of the gifts, Benedictine Sisters Jean Marie Ballard and Robin Lynn Evans brought forward wildflower seed packets, which were distributed to those in attendance after Mass, along with instructions on how to create a wildflower sanctuary using the seeds. Father Alex blessed the seed packets after Holy Communion.
Sisters Jean Marie and Robin Lynn were among several Benedictine Sisters of Ferdnand who attended the Green Mass. Sisters of Providence and Daughters of Charity who are serving in the diocese also attended.
Father Eugene Schmitt, Parochial Vicar of Sts. Mary and John Parish and St, Benedict Cathedral, and Diocese of Evansville Senior Priest Father Ray Brenner concelebrated the Mass with Father Alex. Deacons Dennis Russell of Sts. Mary and John Parish and Tom Cervone of Holy Redeemer Parish assisted. Deacon Tom is a co-author of the "Our Mother Earth column" published in The Message. 
As he concluded the Mass, Father Alex said, "I hope this Green Mass will become an annual event to help us grow our awareness for the need to care for our home. By preserving it, we can provide hope for the generations yet to come."
Tri-State Creation Care distributed flyers about its work after Mass. The flyer included a Creation Care Pledge that attendees were encouraged to take and follow.