By Tim Lilley
The Message editor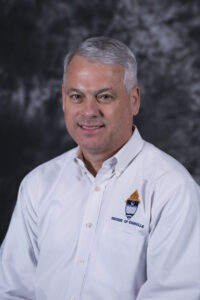 After 14 years' service to the Diocese of Evansville – first as Chief Operating Officer, then as Chancellor/COO – Tim McGuire retires from the diocesan staff May 2; and he's going camping with his family. More about that later.
Tim recently reflected on his years of service to three bishops and the Catholic faithful across our 12 counties.
Quick to apply his self-deprecating way, Tim smiled and said, "As for working for three bishops, I'm just grateful they all kept me. Seriously, all three of them are wonderful, faith-filled men, and I have learned from each of them."
He added, "Bishop (Gerald A.) Gettelfinger, Bishop (now Indianapolis Archbishop Charles C.) Thompson and Bishop (Joseph M.) Siegel faced many important decisions during my time with the diocese, and I can say without hesitation that every decision they made was Christ-centered; they always made the decisions that were best for the Church and the Diocese of Evansville. I am extremely grateful to each of them for their support and guidance during tenure (better word than tenure??) In addition, I have a greater appreciation for the dedication of the diocesan priests.  In today's world, they are asked to do so many different things; and they carry out their responsibilities with pastoral care and concern for their parishioners."
Tim retires from the diocese in his 15th year of service, and he talked about the historic path our bishops, he, other diocesan staff and our faithful have walked over that time.
He said, "I started in 2007; our country soon was in the 'Great Recession.' The parish-reorganization campaign followed, and the diocese's first-ever combined capital campaign followed that. With help from volunteers across the diocese, we developed, adopted and began implementing a diocesan pastoral plan, and then COVID-19 arrived. The past 15 years have been very interesting."
A variety of factors led Bishop Gettelfinger to begin discerning a possible plan for parish reorganization, which continued to develop – and was adopted and implemented – under Bishop Thompson. Along the way, Tim, the bishops and others got input firsthand from the people of the diocese through a series of meetings and listening sessions held across our 12 counties.
Tim said, "I was so impressed with the passion people had for their faith and their parishes. Some of the meetings proved to be very emotional, but everyone was always very respectful through the process. They responded as well as they could, given the circumstances. Our bishops provided great leadership, and so did our priests; they were always very supportive."
Although Tim didn't say this, it seems apparent that the response to the "Stewards of God's Grace" capital campaign provided concrete evidence of the passion for their faith and their parishes that the Catholics of Southwestern Indiana have.
Tim said, "When we started 'Stewards of God's Grace,' I was prayerfully hopeful that we would meet our goal – or at least get very close to it. I never anticipated that we would get to 150% of that goal, which is amazing. And it's a wonderful testament to the generosity of our people; it's overwhelming."
Tim also reflected on all the people he's worked with across the years in the Diocese of Evansville Catholic Center and our parishes across 12 counties. He said, "As I got into my work here, I encountered faith-filled people at every level. People work for our diocese and for our parishes and other ministries out of a sense of mission; that is very apparent. I am grateful to all of them, especially the diocesan staff, for their help and their prayers over the years; I am a better person as a result."
Tim and his wife Lisa are members of Evansville's Good Shepherd Parish, and they are planning to spend more time with their children and grandchildren moving forward. Son Ryan and his wife Jett live in St. Louis, while?? daughter Kasey Byrley and her husband David are in Evansville with granddaughters McKenna and Adalynn, who attend Good Shepherd School, and new addition Breanna, born April 24. 
Tim and Lisa enjoy camping, so expect the McGuires to be on the road a little more beginning in May. Tim said they plan to visit Indiana Dunes this summer, and a trip to Colorado is in the works for the fall.