By Megan Erbacher
The Message assistant editor
To celebrate the Catholic Diocese of Evansville's 75th Anniversary, and in response to Pope Francis' 2015 encyclical on caring for the earth - "Laudato Si'" - 75 trees were recently planted on diocesan grounds.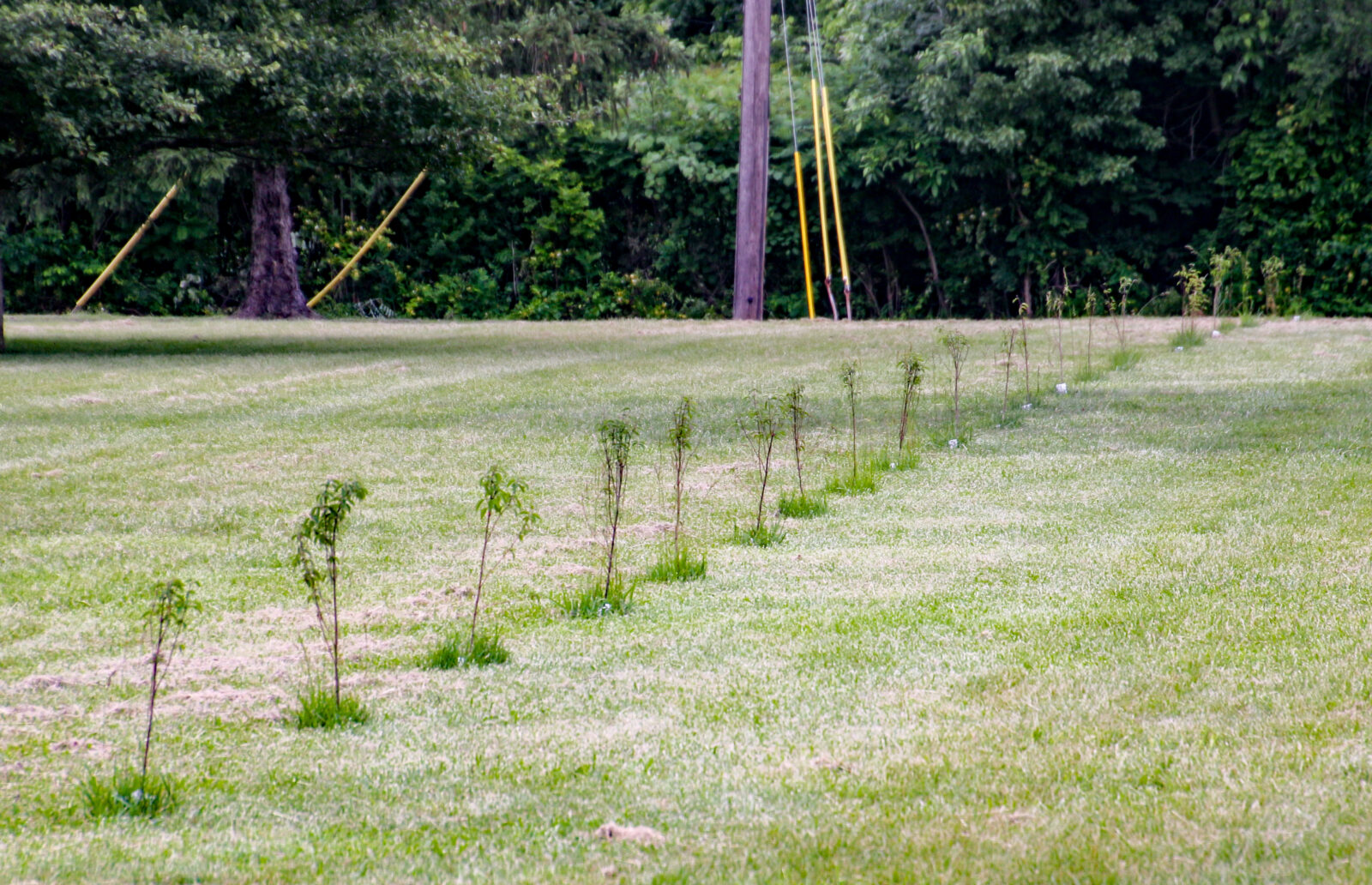 Before COVID-19 limited or canceled many events that were planned to recognize the 75th jubilee, parishes were encouraged to develop an act of outreach in love involving "75 of Something." At the diocesan level, plans were also made.
At a Presbyterate meeting, senior diocesan priest Father Bill Traylor suggested planting 75 trees on diocesan grounds as a memorial effort. With Bishop Joseph M. Siegel's approval, the project was planned; and in March, 75 trees were planted in three rows in the open space in the northeast corner of the Catholic Center property.
Diocesan Chancellor and Chief Operating Officer Tim McGuire thanked Father Bernie Etienne, pastor of Evansville's Holy Rosary Parish and Diocesan Vicar General, for sharing his forestry knowledge, experience and guidance in planning the project.
Father Bernie said burr oak trees, white pine trees and dogwood trees were chosen for the project because of the unique features they bring to the project.
"The perimeter is dominated by the dogwood trees which are considered an ornamental tree," he said. "They do not reach a great height but will present a beautiful approach to the Catholic Center in the spring when they flower. The white pine trees will make an attractive backdrop for the dogwood trees and eventually form a windrow and natural privacy fence. The burr oaks will be a majestic addition to the planting when they reach maturity and the mast they produce will undoubtedly entice the deer and turkey already present in the neighborhood."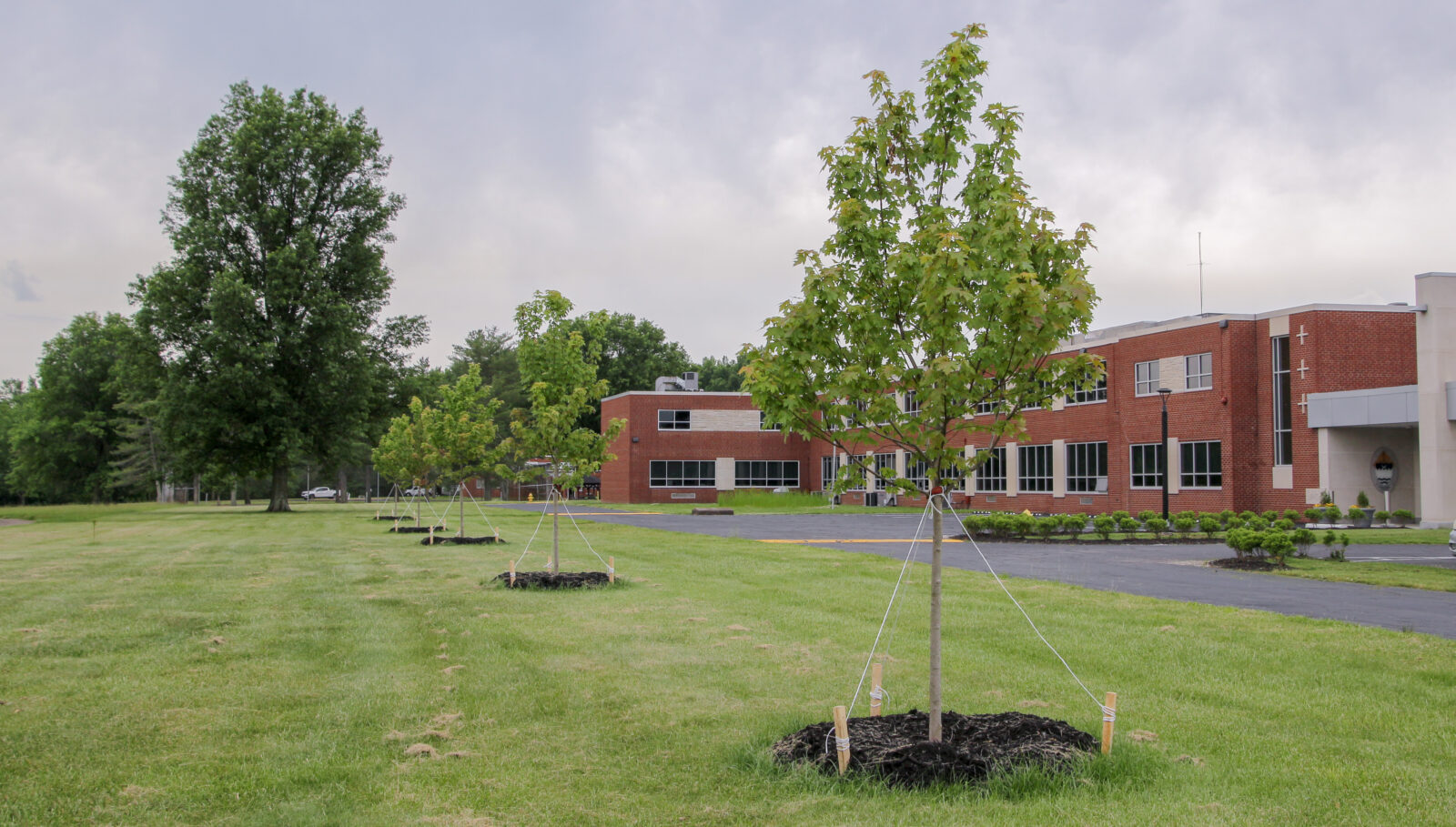 Five additional trees, red maple of the Autumn Blaze variety, were planted along the east entrance drive at the Catholic Center in recognition of the Diocese's 75th Jubilee. These five trees were funded by an anonymous donor in honor of the five former bishops of the Diocese of Evansville: Most Reverend Henry J. Grimmelsman, 1944-1965; Most Reverend Paul F. Leibold, 1965-1969; Most Reverend Francis R. Shea, 1969-1989; Most Reverend Gerald A. Gettelfinger, 1989-2011; and Most Reverend Charles C. Thompson, 2011-2017.
Father Bernie said the five red maple trees will offer a "beautiful splash of color in the fall." 
"Environmentally, tree plantings are important for the environment because of their ability to sequester and counter excessive carbon emissions present because of our use of fossil fuels," he said. "In addition to their environmental and esthetic appeal, the trees we have chosen are also very wildlife and songbird friendly."