By Megan Erbacher
The Message assistant editor
Twenty local educators, including two Catholic school teachers from the Diocese of Evansville, were recently selected from more than 880 nominations and named the 2020 McDonald's Teach it Forward Outstanding Educators.
Kelly Schaefer, a fifth-grade teacher at Holy Trinity Catholic School in Jasper, and Roseann Wilson, a physical education and health teacher at Holy Redeemer School in Evansville, were given the award, which honors educators who exhibit the ultimate dedication to their students and contribute to the improvement of education in our most challenging times.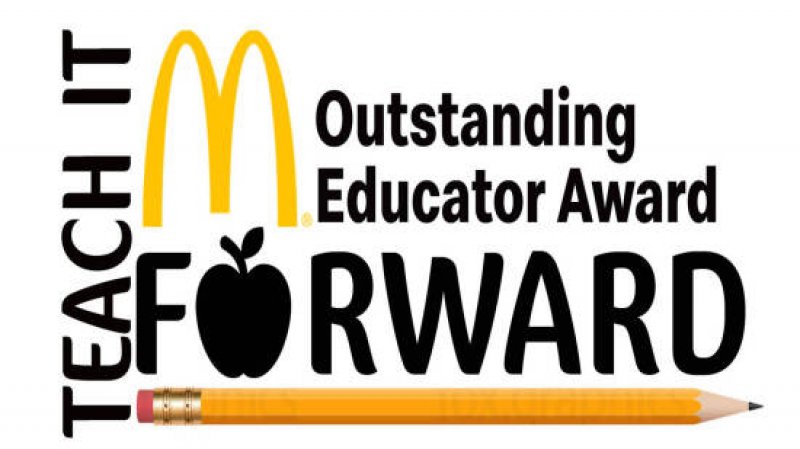 Schaefer and Wilson both said they are humbled by the award. They also expressed gratitude to McDonald's for appreciating teachers, and they thanked anyone who nominated them.
"I teach because it gives me a purpose, and it is my passion," Schaefer said. "My hope is that my lessons and discussions, especially in religion, can positively impact my students' future. I want to help students develop academically, but more importantly, I want to help them become good human beings who have empathy, manners and an unshakable faith. When I am teaching religion, I always tell my students if you remember anything from this year remember this … God has a plan for you."
"Teachers work tireless hours year-round to continue to find the best methods to reach our children," Wilson said. "With the pandemic, it has caused all of us to think of a hundred more procedures to keep everyone safe and engaged. We have had to change around how we teach. I see all the teachers at Holy Redeemer giving everything they have every day. The new normal is tiring, but we do it to stay safe and to keep teaching in person."
Winners of the 2020 McDonald's Teach it Forward Outstanding Educators award each received a $100 Visa gift card to use toward their classroom, a t-shirt, certificates and McDonald's coupons to "teach it forward" to outstanding students throughout the year.
Local McDonald's Owner/Operator Katie Kenworthy and her husband, Chip, partnered with other area McDonald's operators including Michael Burrell, Ivan Carvajal, Kelsey Hamlet, Ryan Kramer, Larry Lovelace, and Susan and Rick Mann, to honor area educators.
Kenworthy says supporting teachers is always a top priority, but this year is more important than ever.
"Our teachers are constantly adapting to whatever is thrown at them while making sure our students succeed," Kenworthy said. "We're excited to recognize those who go above and beyond for our students through the Outstanding Educator awards."
Wilson has taught at Holy Redeemer for 20 years as a kindergarten through eighth-grade physical education teacher, fifth-eighth grade health teacher, and for the last two years as a third-eighth grade computer teacher. She previously taught and coached at the college level.
"When the opportunity came open at Holy Redeemer, where my kids were in second and fourth grade, I jumped at the chance," she said. "Not only (to have) the opportunity to help kids love to move and (learn) how to be healthy, but I was going to be able to teach the kids Christian principles in all parts of their lives."
Schaefer has taught fifth grade for 16 years. She taught 10 years at Precious Blood and is in her sixth year of teaching at Holy Trinity, which is a merger of Precious Blood and Holy Family schools.
"My hope is when my students face trials and tribulations they can rely on some of (these) words of wisdom and overcome adversity. … Sunny days are on the horizon, but you can't appreciate the sunny days without the rainy days. Whether life is going smoothly or there are bumpy roads, never stop talking to God."
Schaefer's advice to fellow teachers during this pandemic is to take it one day at a time. 
"All teachers have an opportunity, during the pandemic, to help teach children about resilience, empathy and making the best of things in all situations," Wilson said. "We need to see those kids every day, and they need us."