By Megan Erbacher
The Message assistant editor
The Catholic Education Office celebrated Catholic school administrators in a special way on Nov. 20 as they gathered at the Catholic Center in Evansville for a Day of Prayer. 
The theme for the retreat was "Lessons We Learn from Geese." Each person received a small wooden cross, a journal and the "2021: A Book of Grace-Filled Days" with readings and reflections. Bishop Joseph M. Siegel prayed with administrators, and he blessed them and their crosses.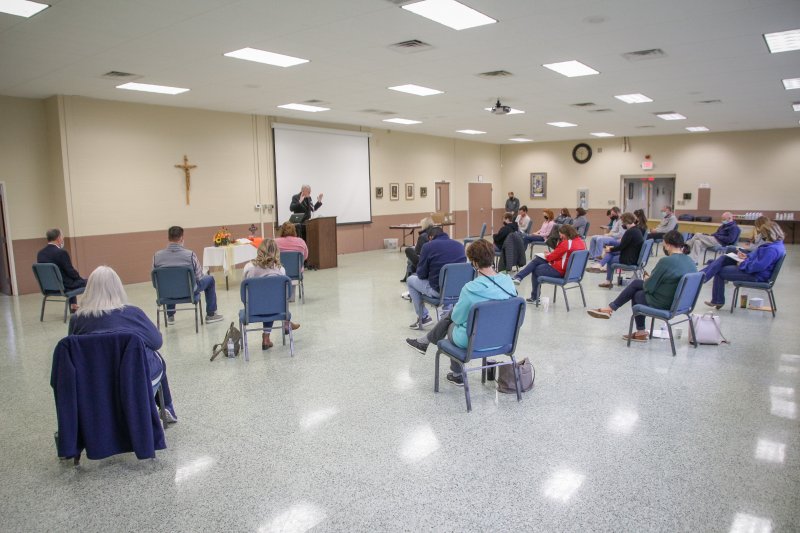 Administrators were given facts about geese, lessons to learn from the birds and reflection questions. The lessons included: people who share a common direction and sense of community can get where they're going quicker and easier if they do it together, similar to geese flying in a V-formation; the lead goose teaches us that it's OK to take turns doing the difficult tasks and sharing leadership; geese honk at one another to offer encouragement, and production is better in groups of people where there is praise.
"Catholic school administrators share a unique bond with one another," Superintendent of Schools Dr. Daryl Hagan said. "I am pleased to provide the space and structure for them to reflect on their ministry."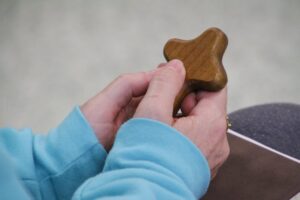 To mitigate the spread of COVID-19, everyone self-screened before arriving at the Catholic Center; wore face masks; washed their hands frequently; and remained at least 6 feet away from one another. They also had the chance to be inside or outside for various activities.
The Day of Prayer continued the celebration of administrators following the National Appreciation Day for Catholic School Principals on Nov. 19.
Following are reactions from administrators on the Day of Prayer.
"With all of the challenges of this year, it was nice to take a day to refocus on my faith and leave the stresses of school behind. Many times we feel like we must be the lead goose 100 percent of the time, but the theme of this day helped me to re-center and remember to share the load with those that can help take the lead at times."

"Flying is hard work. I greatly appreciate the opportunity to rest the wings."

"Our group is amazing! I know that I never walk this journey alone. It is amazing to be able to share our experiences with each other and ask for advice."

"I am thankful for the opportunity to be intentionally quiet and prayerful in the midst of these crazy times, reflecting on the blessings that our administrators bring to one another."

"As a principal, we need to make sure that we are nurturing our own spiritual life so we can lead our communities. Today was a great opportunity to do that."

"As an administrator, it is so hard to find time alone and to focus on our own needs instead of the needs of others. This morning forced me to slow down and just listen to God."

"It was great to spend time in prayer and reflection. Knowing that like geese, we are much stronger as a flock than as individuals."