Special to The Message
With the upcoming holiday, many of us take time to honor our veterans and remember their sacrifices for us. Some, however, make a particular habit of this.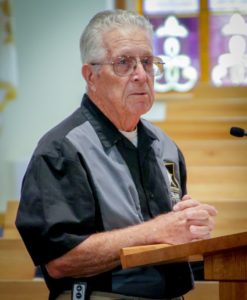 Don Gillies, a Korean War veteran, has undertaken numerous projects to honor our military men and women and serve our community.
With the support of Father Jason Gries, and now Father Chris Forler, he started and continues the tradition of a Boots Mass, based on a Mass he saw once during his time in Korea, to honor servicemen and women on Memorial Day weekend at St. John the Evangelist Parish in Daylight.
With the assistance of Indiana State Sen. Jim Tomes, a Vietnam veteran, Gillies posted the sign along I-69 that marks the 38th Parallel, which runs through Evansville. In Asia, the 38th Parallel, or 38 degrees North Latitude, separates North and South Korea and remains a highly militarized zone. Gillies pushes for continued efforts to officially designate I-69 as a memorial for veterans.
Gillies enlisted in the military and served in the U.S. Army 326th COMMRECON, a reconnaissance intelligence unit that was always about ten miles behind combat, working to find and decode transmissions between Korea and China. He was deployed to Korea just as the action was officially winding down, but he told me, "What I was witness to was the destruction."
Following behind combat, he saw the horrors of war and the devastation it wreaks: "It's like going into a body and pulling the spine out."
In 1965, Gillies attended a concluding banquet for a special engineering program he'd participated in and found a fellow veteran in line. One lady, overhearing their conversation, turned and asked if Gillies had served in the military. He confirmed that he had, and she promptly replied that he was "nothing more than a [expletive] baby-killer."
Tensions were high concerning America's involvement in Vietnam, and the woman projected her negative views onto all veterans.
Gillies "decided discretion was the better part" and didn't respond, but the boiling anger from that encounter "infected" him.
The reception of veterans at home was "180 degrees from what I thought the image would be," and he struggled with his suppressed anger for many years. Habitat for Humanity was the "nonprescription balm" that healed and renewed him.
In the early 2000s, he talked to another veteran he encountered on a run who was preparing to hike the Appalachian Trail. He told Gillies about his work with Habitat and encouraged him to get involved. Gillies had little construction experience, but he decided to give it a try.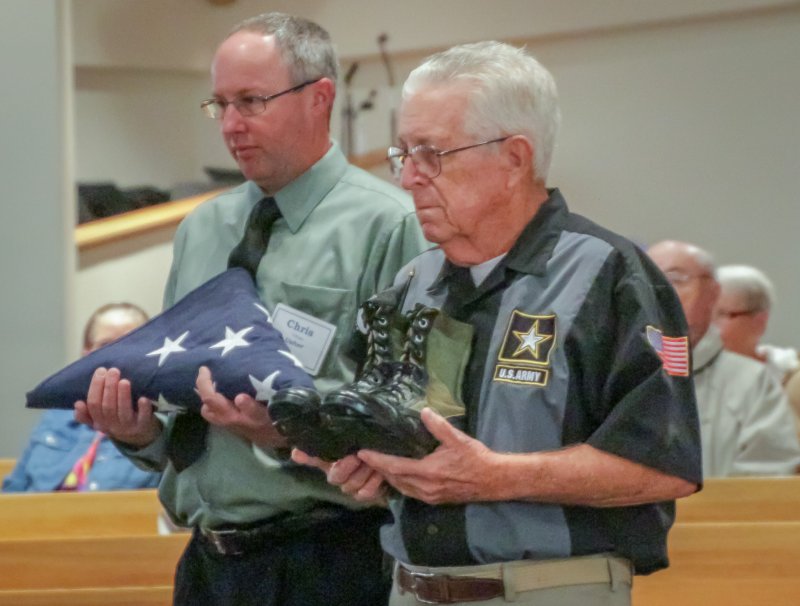 Through his work with Habitat for Humanity, Gillies gave the gifts of recognition, support and community to the family of their recently deceased husband, father and veteran.
John Schnakenburg, an electronics technician on the USS Sand Lance (SSN 660), passed away from a heart attack shortly before the family was slated to receive the key to their new home through Habitat in 2010. As soon as Gillies heard what had happened, he reached out to Schnakenburg's crew and commanding officers to get a model of the submarine Schnakenburg served on for his children. Once Gillies was in communication with the Navy veterans, they decided more should be done. In the end, the Schnakenburg's key ceremony was also a memorial to the man, during which Naval officers from Baltimore, Maryland, presented the family with a memorial letter from Schnakenburg's commanding officer; a listing of those "On Eternal Patrol;" and a mahogany wood carving of the USS Sand Lance submarine. Gillies saw a man to be honored and worked to make it a reality.
At a Navy reunion later, the crew invited Gillies to speak about his work with Habitat; and it was here, answering questions about work that he loved, that Gillies realized he was no longer angry.
Gillies describes his work with Habitat as "a very comforting, soothing occupation [that is] enjoyable and fun." He especially loves helping families. "The biggest kick I get is out of watching little people … children have a right to play."
He recalled seeing the injured and orphaned children in Korea, who soldiers would sometimes play with, though it always broke his heart. Making children happy and giving them homes is his response to that lady and her hateful remark from all those years ago. At the Navy reunion, he was finally able to share the evidence and fruits of his work. He is not a "baby-killer." He builds homes and strengthens families.
In all his work, Gillies understands that life is a community effort that must focus first and foremost on the dignity of people. When working on builds, he tells his crew, "we are mentoring today." When he taught classes in industrial sales, "it never really was how to sell, it was how to be a person." In meetings for Habitat, they carry over the military mentality to "try to make it a family gathering, so to speak. It's not what I want, it's what we need. It's not my decision, it's ours."
The wound from that comment, though it is mostly healed, drives Gillies to perpetuate honor and respect for all who have served our country. Let us recognize the value of life and the incredible sacrifices of those who have given or risked theirs for us and our freedoms.
Let us live this respect each and every day, and especially pay our respects this Veterans' Day.