By The Message staff
Father Ron Kreilein, pastor of St. Bernard Parish in Rockport, has announced the appointment of Rockport native and St. Bernard alumnus Ryan Nowak as the school's new principal.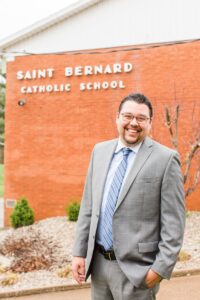 Father Kreilein said, "I am very pleased and excited to have Ryan returning to our parish community as principal of St. Bernard Catholic School. He is from Rockport and is well known here by many. We will keep Ryan and his family in our prayers as he makes this transition."
Dr. Daryl Hagan, Diocesan Superintendent of Schools, said, "Ryan's connections to the community as an alum and his strong commitment to Catholic education makes him well suited to serve as principal of St. Bernard Catholic School."
Nowak joins St. Bernard after serving since 2018 as fourth-grade teacher and athletic director at Evansville's Good Shepherd Catholic School. From 2012 until his move to Good Shepherd, Nowak taught at Saint Wendel Catholic School in St. Wendel. He was recognized as Posey County Teacher of the Year for the 2017-18 school year.
Nowak is a 2003 graduate of St. Bernard School and a 2007 graduate of South Spencer High School. He earned a Bachelor's Degree in Elementary Education from the University of Southern Indiana and a Master's Degree in Educational Leadership from the American College of Education.
Nowak said, "I feel honored and blessed to be returning to the Saint Bernard Parish community as the new principal. As a former student and graduate of Saint Bernard, I have many fond memories of growing up in the school, parish and community, and know firsthand the value of Catholic education. I'm eager to meet the staff, students and parishioners. Together, we will
continue the school's mission – 'to educate the whole child to serve the world as a responsible Christian.'"
Nowak and his wife Meagan have a daughter, Rynlee, who is 9 months old.