By The Message staff
Father Paul Ferguson, pastor of Our Lady of Hope Parish, has announced the appointment of Linda D. Ketzner as the first President of Washington Catholic Schools. She began her duties March 16.
"We are excited to have Linda serve as our first President," Father Ferguson said. "Washington Catholic Schools have a strong tradition of excellence, and Linda will build on the past while creating new opportunities for the future."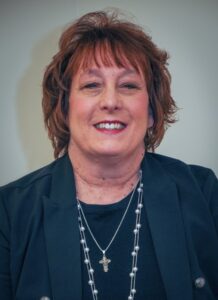 Ketzner earned a B.A. in K-12 Special Education from the University of Evansville and an M.A. in Education from Indiana State University. Later this year, she will receive a Ph.D. in K-12 Education with a specialization in Leadership from Walden University.
"The president/principal model is a successful leadership model implemented by Catholic schools across the country," said Dr. Daryl Hagan, Diocese of Evansville Superintendent of Schools. "Mrs. Ketzner, as the first president of Washington Catholic Schools, will facilitate the school strategic plans as well as lead the institutional advancement for both schools. I look forward to her being a part of the educational ministry of the parish."
Ketzner's background includes service from 2013-2018 as Special Education Life Skills Teacher and Speech Team Coach at Reitz Memorial High School in Evansville. She began her career as an Academic Skills Adjunct at the University of Southern Indiana, and went on to develop, and serve as President of, the Educational Tutoring Center in Evansville. She also has served as Day Treatment Program Instructor at the United Methodist Youth Home in Evansville, and as a Behavior Consultant with Positive Pathways.
Ketzner said, "St. Theodore Guerin heard God's call to be the messenger and developer of God's plan, and to start a Catholic School that grew to become Washington Catholic Schools; they are still ministering to students and families today. I am blessed and honored to walk in the footsteps of St. Theodore Guerin, all who have followed after her and the current staff of Washington Catholic Schools, who are committed to God's call to provide a Catholic education to students in our community."