By The Message staff
Father Claude "Dusty" Burns, pastor of St. Philip Parish in Posey County, has appointed Katie Benton to serve as the Principal of St. Philip School. Benton, who has been a member of the school's faculty since 2002, served as Interim Principal for the past year.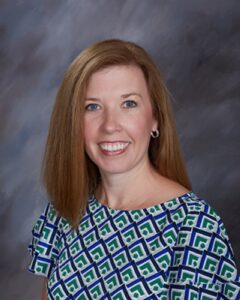 Father Burns said, "During this school year Katie has demonstrated a strong capacity to lead St. Philip School. I am confident that she is the right choice as principal for our future."
Benton earned her master's degree in education from Indiana Wesleyan, and her bachelor's degree in education with a concentration in math from Indiana University. She joined St. Philip in 2002 as the fifth-through-eighth-grade math teacher.
During her tenure, she also served on the St. Philip Technology Committee, Safety Team and Wellness Committee. She has managed iPads and Chromebooks, and student accounts, for web-based learning tools, and she has coached the St. Philip Math Bowl team.
Benton said, "I am blessed to be part of the St. Philip School community and am grateful for the opportunity to continue to serve our school in the principal role moving forward."
Diocese of Evansville Superintendent of Schools Dr. Daryl Hagan said, "Katie has demonstrated the ability to successfully lead her school community. I am pleased that she has accepted this opportunity to serve in this ministry as principal."