By Bertha Melendres
Special to The Message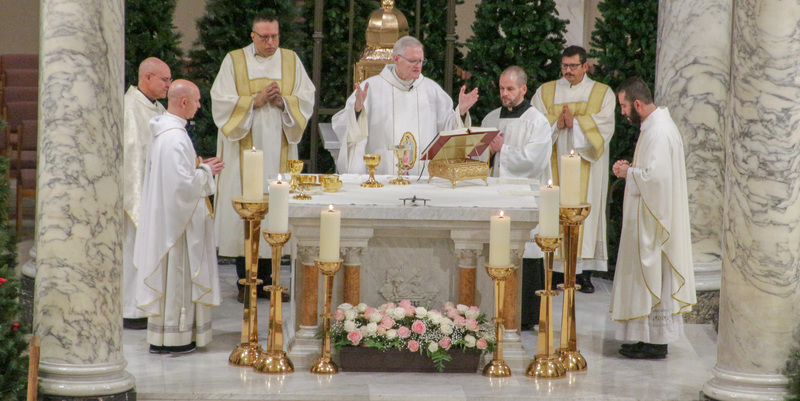 The Apparitions of Our Lady of Guadalupe in the winter of 1531, on the hill of Tepeyac and ultimately on St. Juan Diego's Tilma or cloak, changed the faith of a nation – a nation that was submerged in division, misunderstanding, violence and war. Saint Mary of Guadalupe as she called herself, came to change it all, converting millions to the Catholic faith. ,
Almost 500 years from the apparitions, we all celebrate our Heavenly Mother; and Dec. 12 is a very special day for all Mexicans and all who live in the Americas. It is the Feast of Our lady of Guadalupe, Patroness of the Americas. The Hispanic communities of our diocese celebrated our Lady of Guadalupe in all six parishes with a Hispanic ministry. Some had Las Mañanitas on Dec. 11, the eve of her feast day. Las Mañanitas is a traditional Birthday song that has become much more than a simple song to Our Lady.  Many singers serenade our Blessed mother with all kinds of songs that many have written for her through history.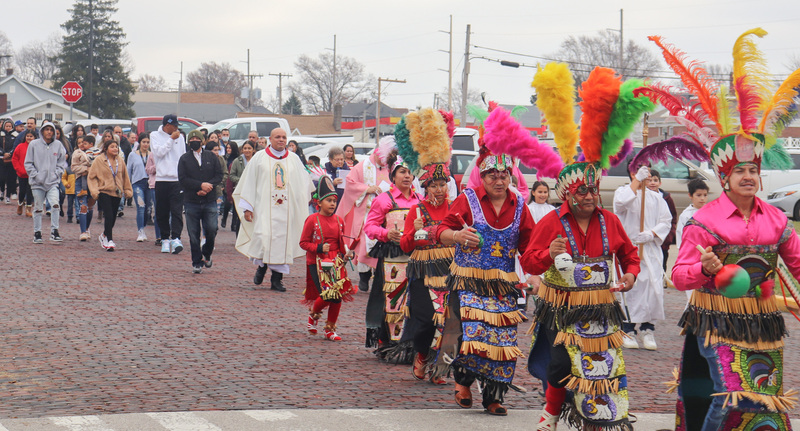 It is typical to see traditional indigenous dancers dancing for our Lady; dancing is the highest form of prayer in the Indigenous culture. Sometimes, there are plays or representations of the apparitions. Gatherers also pray the rosary in most places. The Mañanitas can start anywhere from early in the evening on to 12 a.m., when they will celebrate a Mass. This event can sometimes be modified to fit the needs of the community. For instance, they might not pray the rosary or change the time when this happens. They usually have the Mass the next day. 
This year, our diocese celebrated Las Mañanitas by bringing hundreds of people together as one family at St. Francis of Assisi Parish in Dale, St. Joseph Parish in Jasper, St. Francis Xavier Parish in Vincennes, Our Lady of Hope Parish in Washington and Holy Rosary Parish in Evansville. There were Masses Celebrated Dec. 12 at St. Francis of Assisi in Dale and St. Mary Parish in Huntingburg, and Bishop Joseph M. Siegel celebrated a bilingual Mass at St. Benedict Cathedral in Evansville that welcomed over 400 people of many nationalities. This Mass and celebration were organized and planned in combined efforts of Holy Rosary and the Diocesan Office of Hispanic Ministry. 
Holy Rosary's Choir Director brought together the Hispanic adult choir and the school children's choir for the beautiful music we enjoyed at the celebration. There were two different groups of dancers. One was a group of teens who, like the adults, practiced for months for this special event. The Holy Rosary community came together to make more than 600 tamales, and to make the beautiful arrangements of roses. We had a mariachi band from Indianapolis, and the Knights of Columbus were present, too. Our Lady truly brought many of her children together, and they all offered their service and talents to our Lady on this joyous feast. 
Our Lady of Guadalupe's image has, in itself, three different messages. One for the indigenous people who converted to Christianity and turned to the ever living God and this mestiza (mixed of both races) young maiden as their heavenly mother, she who gave them back their dignity and restored peace in their nation. The second message was to the Spanish conquistadors who had invaded this new land. To them, she was, "The woman clothed with the sun, crowned with stars and the moon at her feet" that they read about in the book of Revelations. The mother of God, whom they knew and who had been with them in their battles. She made them realize that they were one people of mixed races – the people of God. 
The last message is for us today because Our Lady's image keeps on revealing all kinds of scientific proof of this miraculous apparition. The Virgin Mary knew that people of future generations would have the tools to find those hidden messages in her image, like finding the 13 tiny figures in the reflection of her eyes, or being able to see the constellations on the stars of her mantel. With this image that was not painted by any human hands – and scientists can't explain how it is – that it has no brush strokes; that there is no trace of paint known to man and that even after 500 years, this humble Ayate, or Tilma, has not yet decomposed or disappeared. Our Lady of Guadalupe is still speaking to each of us. It is no wonder that this image and avocation of Mary has spread throughout the entire world. 
Our heavenly Mother brings us this call to unity even in our days, and continues to bring comfort, joy and peace with her maternal love. On Dec. 12, we all came to her as she wanted us to, as she told Juan Diego, "I should show my tender clemency and compassion for all those who love and seek me. For all who implore my protection, who call on me in their labors and afflictions…. Am I not here, who am your Mother? Are you not under my shadow and protection?" 
Our Lady of Guadalupe Pray for us!
Bertha serves as director of the Office of Hispanic Ministry.