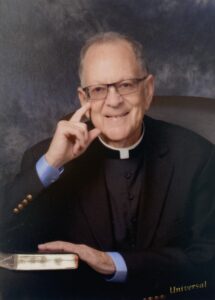 With prayerful good wishes, St. Mary Parish in Ireland announces the 50th Ordination Anniversary of Pastor Father Joseph F. Erbacher. Everyone is invited to a Mass of Thanksgiving at 11 a.m. EST March 27 at St. Mary Church. An open house will follow from noon to 2 p.m. EST in the St. Mary Community Center Cafeteria.
Father Erbacher extends his sincerest thanks to his parents, family, priests, nuns and all friends who have encouraged him daily with their prayers. 
No formal invitations will be sent; all are welcome, and your prayers and good wishes are truly appreciated.