The Message assistant editor
Before Reitz Memorial High School senior Elizabeth Broshears makes a decision, she first considers her family and how it will impact them. As the eldest of five children, Broshears, 17, said she wants her siblings to have the same opportunities she has had.
Last week, Broshears learned her undergraduate college tuition will be paid in full because she is one of three Vanderburgh County 2020 Lilly Endowment Community Scholarship recipients. The other two Vanderburgh recipients are Signature School seniors Saisantosh Ponna and Ankush Dhawan.
The Vanderburgh Community Foundation surprised Broshears with the scholarship during a Dec. 11 reception in the Reitz Memorial Media Center. A large group of family members, friends, classmates, coaches and teachers were present to congratulate her. She thanked them all for helping her succeed.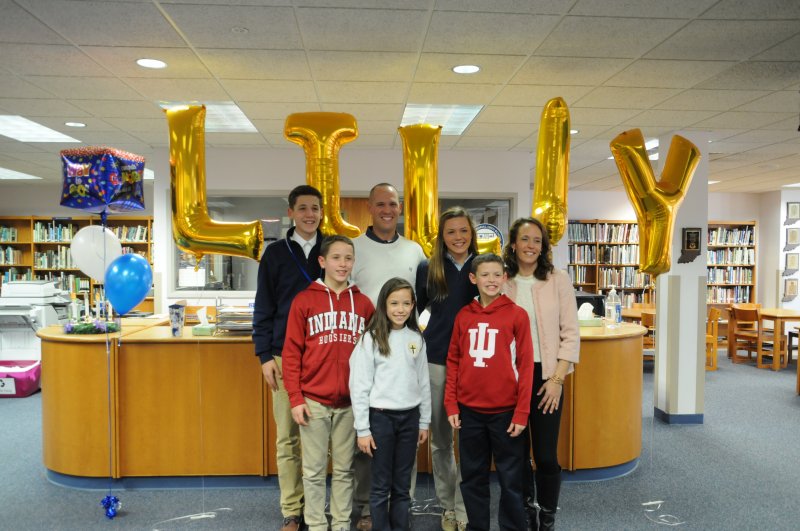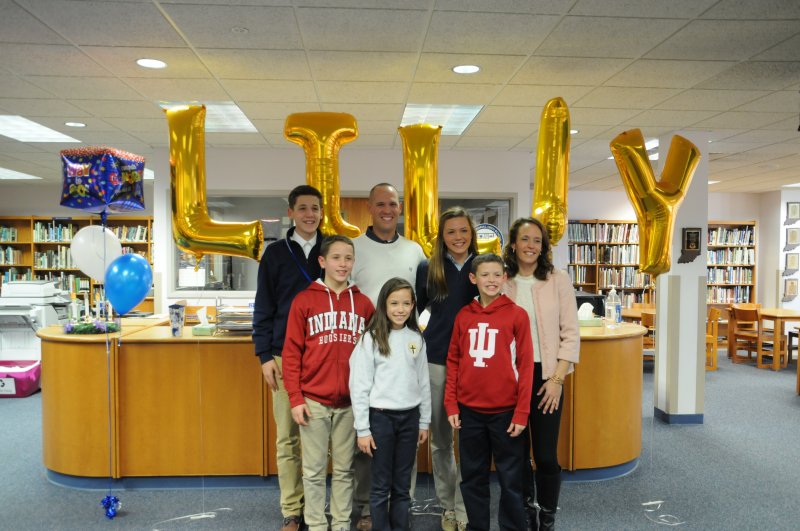 "It was kind of a flood of relief," Broshears said. "I'm proud of the accomplishment, but also I know that it sets me up for things I want to do in the future, like go to medical school. It's a great stepping stone and tool, so I'm just excited to use it to the best potential that I can."
The Lilly Endowment Community Scholarships provide full-tuition, required fees and an annual stipend of up to $900 for required books and equipment for four years of full-time undergraduate study at an accredited public or private nonprofit Indiana college or university.
Broshears is the daughter of Philip and Amy Broshears, and sister to Thomas, Alex, Andrew and Sarah Clare. The family's home parish is Good Shepherd.
Broshears plans to study biochemistry at Indiana University in Bloomington on a pre-medicine track.
Sidney Hardgrave, Regional Director of Community Engagement and Impact for the Vanderburgh Community Foundation, explained the scholarship is funded by an endowment through the family of Eli Lilly. The program started in 1998, and at least one scholarship is awarded annually in each Indiana County, with Vanderburgh giving three. Since 1998, Hardgrave said 4,769 scholarships have been awarded throughout Indiana at a value of more than $405 million.
"College is increasingly expensive," she said. "And most of the scholarships that are available to seniors are not annual, so every year they scramble to find some money to support their next year of schooling. Paying full tuition for four years opens so many doors for students."
Katie Haire, Reitz Memorial's college and career guidance counselor, bragged on some of Broshears' achievements, including a 4.0 grade-point-average, her performance as an athlete in the swimming pool – and she earned a perfect PSAT score.
"The first time I met Elizabeth I asked her, 'What do you want me to know about you?' And she said, 'I'm making all of my decisions because of my family,'" Haire said. "I couldn't think of someone more deserving. Elizabeth came into my office and told me she wants to get as much scholarship money as she can so her brothers and sisters can go to college, too. I don't get that very often. I don't get students who care so much about their family that it drives every decision they make."
Broshears is also a member of the Key and EB/SamStrong clubs and Student Council; she served as a Tiger Ambassador and competed in the Academic Super Bowl. Her community involvement includes volunteering with Challenger Baseball and Special Olympics. She also started her own business providing swimming lessons and water-safety instruction to kids ages 3-13 in her family pool during the summer months.
Her family was notified of the good news days before she learned about the scholarship. Amy Broshears said they found out the weekend before Elizabeth, and all four siblings were in the car when the voicemail came through.
"To keep four younger siblings from spilling the beans was difficult," she said with a laugh. "I found out through a text from my husband. He sent me all emoji's, kind of communicating in code. That was hard not to react with her sitting next to me."
Amy Broshears said the scholarship is a blessing.
"She's just so special," Amy said of her oldest child. "They all are. For us, with five kids and her dad just had a kidney transplant, financially this means the world to us. But we know so many of the candidates and we know how deserving each one of them is. It's just an amazing honor."