By Megan Erbacher
The Message assistant editor
Every second-grade classroom and elementary school library in Diocese of Evansville Catholic schools recently received a copy of a newly published book based on the life of a missionary priest who is a son of the Diocese of Evansville. Catholic School administrators received the books in late August.
"Tiny Teak," co-authored by Mary Ellen Ziliak and Lucy Ziliak Will and illustrated by Joan Dewig deJong, is based on the life of Divine Word Missionary Father Jerome "Jerry" Ziliak. Mary Ellen's husband, Roger, is a nephew of Father Jerry, and Lucy is a niece. "Tiny Teak" is the story of how a teak tree farm was started in India by Father Jerry.
One of nine children of Edward and Anna (Fehrenbacher) Ziliak, Father Jerry was raised on a farm in Haubstadt. He attended St. James Catholic School in Haubstadt and then the Society of the Divine Word's St. Mary's Seminary at Techny, Illinois. He professed vows as a Divine Word Missionary in 1942 and was ordained to the priesthood Aug. 15, 1947. 
As a Divine Word Missionary, Father Jerry was assigned to India for 50 years. His work included serving as a parish priest, farmer, teacher and community organizer. He researched, developed and taught sustainable farming methods in India, and for more than three decades, he managed the Karpur Adaptive Research Farm near Khandwa.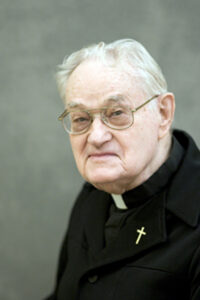 In the book, Mary Ellen explained that the main character, Tiny Teak, lives in a village in India where he fears he will never grow big. However, he is encouraged by his grandmother, Nani Tree, and he learns his history as part of a teak tree farm, as well as patience and self-esteem. Father Jerry is also a character in the book.
Mary Ellen hopes the book will offer a way to reach children regarding faith, community, vocations and care of the earth.
"It's such a wonderful lesson, I think, to get the conversation (of patience and self-esteem) started in a children's book," she said. "They can learn about something that seems very far away, yet we have common ground with them. I like that we can teach sustainable farming, multicultural approaches and vocations – priesthood, mission work, helping your neighbor. I think how basic that is and how that seed can grow into something bigger. I think that's part of what Father Jerry wanted to happen.
"After they hear the book, we hope the child will leave with a sense of learning patience and self-esteem. I think that's valuable for any child at any level, or even us as adults."
"Tiny Teak" is the first book in a series called the "Village Stories," published by Evansville-based M.T. Publishing. Mary Ellen said the series will include three children's books, a novel based on Father Jerry's life, and a nonfiction commemorative book.
The project was born more than 10 years ago, Mary Ellen said, when she and her husband visited Father Jerry two days before he passed away in July 2012.
"Father Jerry was feeble but still alert and still very driven to finish his work here on earth, which included writing down details of his 50 years of mission work in India," she said. "Little did I know that before I left that day, I would promise to continue his mission by authoring his stories and sharing them with the world."
Mary Ellen said Father Jerry "led a saintly life."
"It's grown into continuing Father's mission," she said. "He felt strongly that every living thing is connected. So what we do here affects another living thing elsewhere."