Special to The Message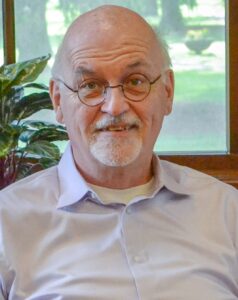 Father Terry Johnson feels like he's in Shangri-La.
"It's like I'm in Camelot," Father Terry said, regarding coming to the Sisters of Providence of Saint Mary-of-the-Woods, Indiana, to minister as the congregation's new chaplain. "This is a well-oiled machine."
Father Terry arrived at the Woods in early July from the greater Chicago area after ministering for 12 years at St. Irenaeus Parish in Park Forest.
Father Terry succeeds Father Dan Hopcus, who officially retired from the ministry earlier this year. Father Dan, a native of California, served as the congregation's chaplain for almost 20 years. He plans to continue to reside at Saint Mary-of-the-Woods.
Father Terry was born in Chicago Heights and attended Marian Catholic High School there. He graduated from St. Xavier University in Chicago and then began a 10-year career as a teacher in religious education at Elizabeth Seton High School, a sponsored ministry of the Sisters of Charity. During that time, Father Terry earned his master's degree in theology from the University of Notre Dame.
In 1985, Father Terry became the Director of Religious Education at St. Benedict Parish in Chicago, which inspired him to consider changing course in life and entering the priesthood. Father Terry admitted, however, that the call to enter the priesthood had been with him for quite some time.
"The interest had been there all along," Father Terry said. "I had looked at the priesthood in high school and college. It just never felt comfortable."
But he felt comfortable enough to enter Mundelein Seminary in 1991 and was ordained a priest May 21, 1994.
Becoming Chaplain at Saint Mary-of-the-Woods stemmed from Father Terry's desire to be more involved with people. He said administrative duties in his position as pastor kept him from doing this regularly.
"What is really attractive about being a chaplain is that it is pure ministry," Father Terry said. "I get to visit with people and talk with them."
Father Terry then mentioned a moment where he sat with former General Superior, Sister of Providence Ann Margaret O'Hara, which was quite meaningful to him.
"That's what we are brought here for," he said. "I hope to continue to do that at Lourdes and Providence Hall. Love, mercy and justice are very alive and well here. The spirit here, it exudes out of everybody. We all support that common mission."