By Kristine Schroeder
Special to The Message
Editor's note: Foster care, and adoption awareness and support, are the main objectives of a project currently underway in the Diocese of Evansville. In this feature, Krstine Schroeder, who writes the monthly "Lessons Learned" column in The Message, introduces readers to the Gries family and their journey of foster care and adoption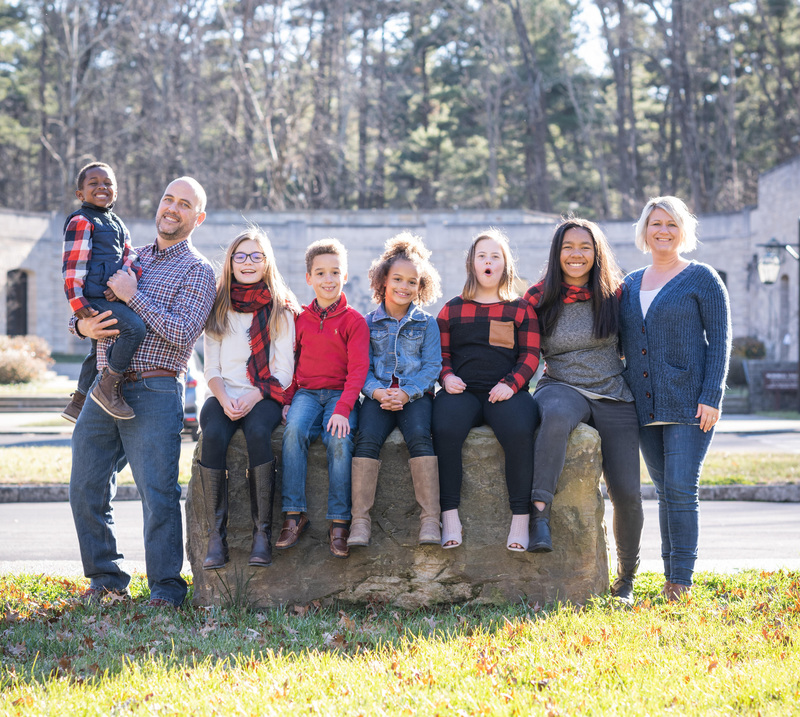 Sitting at Jason and Erin Gries' kitchen table during our interview, I couldn't help but notice how their recent remodel reflected their personalities: open, inviting and hospitable. Erin grew up on Evansville's Westside, and Jason on the near Northside. They married within a year of dating. After two years of marriage, however, tests showed that they would be unable to conceive children.
Always trusting God in their lives, Erin said, "Honestly, our infertility was a blessing. Look at the gift of these six kids we have!!" As we talked, the children passed back and forth through the dining room. It was evident that they all knew their birth stories and, if the biological parents desired an open adoption, Jason and Erin were happy to include them in their children's lives. 
God provided. Cecilia Rose's mother was a 19 year old woman who had been praying for a good family to raise her child. Within a year of beginning the adoption process, Jason and Erin brought five-month-old Ceci home. Their next step was to approach a local organization, Greater Love Adoption Decision. Erin explained that hopeful parents can be as specific or not about the child they hoped to adopt. Erin said, "We agreed to check only one box: We will take any baby." Within a few months, the call came. Mary was born with Down Syndrome and needed a home. 
 "Was there any hesitation?" I asked. 
 "None," Erin replied. She and Jason had a close family connection to someone with Down Syndrome, and they both felt comfortable with their decision. Three days later, they were the parents of two. Both adoptions were closed by the biological mother's choice.
Foster care became their next option. Jason said they fostered seven children before they adopted their third child, Emma Elizabeth. When Karter and Kylie's mother terminated her rights after three years of foster care, their family numbered five. Three years later, they were informed by his great-aunt that Karter and Kylie's brother Leo was being raised in a different foster home for the past year and a half. The Gries' requested that he live with them, and the foster parents agreed. At the age of 3, Leo became their sixth child. 
Besides parenting six active children, Jason and Erin work.  Both are involved in their parish, and are members of Communion and Liberation.  Jason and Erin have obviously opened their hearts to God's call to use their unique gifts for the betterment of their children and the community.
The diocesan Office of Family and Life, several parishes and community organizations are working hand-in-hand to identify resources and needs in our parishes related to foster care and adoption.
A survey has been distributed by pilot parishes, with over 165 responses already received.  These responses have identified parishioners willing to prepare meals, tutor, babysit, etc., as members of care partners for families who are fostering/adopting. The response is very positive as the Office of Family and Life begins its second round of parish surveys soon!
If you would like to fill out the survey, email [email protected].